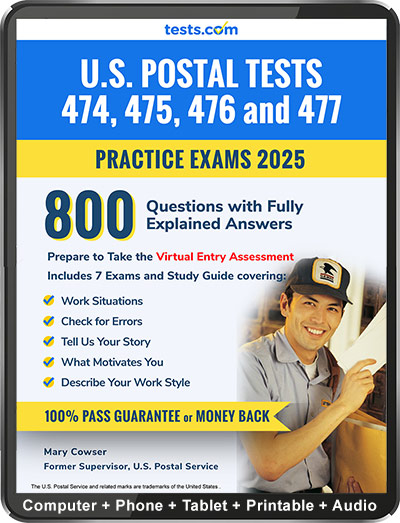 Ace the U.S Postal Service 474, 475, 476 and 477 Tests using these expert written practice tests, including an introductory Study Guide. Simulate the actual exams on our interactive test platform.

Get prepared today to apply for a job with the US. Postal Service. Computer, phone and tablet compatible.

Get BOTH Formats Instantly:
Online—Instant scoring, review & reporting.
Printable—Instant download.
List $49.90 $29.95 SAVE 50%
No Time Limit. No Recurring Charges.
Satisfaction Guaranteed or Money Back.




Or Click Here for Group Orders
Features & Benefits

Tests.com

Other




Co.

Expert Written
YES. Our practice exam was written by an expert with strong experience, education and overall credentials. Unlike subscription products, our material covers what you need to know without redundancy.If you're comparing our practice exam to another company's, do you know who wrote their material?
?
Study When You Want
YES. 24/7 single user license use for 3 Months or add $20 for an Unlimited Time.
?
Leading Products & Service
YES. Our test prep materials are so good we have a 3% return rate compared to an industry average of about 8%. Our practice exam authors, peer reviewers, editors, technical support are responsive to your needs and dedicated to you passing your exam the first time.
?
Free New Question Updates
YES. When we add new questions, you get them Free!
?
Test / Exam Review
YES. A great reference for the who, what, why, where and how of the actual exam.
?
Testing Tips
YES. Specific action tips to improve your score.
?
Printable
YES
?
Answer Bubble Sheet
YES
?
PC/MAC/iPad/iPhone/Android
YES
?
Best for Your Future Online Testing
YES. Tests.com has 300 test categories and growing. Get one test system to take your tests and test history with unlimited access.
NO
100% Pass & Satisfaction Guarantee
YES. If you don't pass or are not satisfied let us know and you will receive a full refund. Click here for details.
?
Best Overall Value
YES. Pay only once with no recurring charges. Compare to $59.95 per month plans with other companies. Practice / study when you want. Keep the eBook/PDF and your Online Account. Get Instant Access to Both Formats…
NO
Need more info? See our free Postal Exam sample questions.
TESTIMONIALS
"Some practice exams have over two thousand questions which makes things much more complicated and discouraging... I've spent lots of money on practice exams and study guides only to find myself "overwhelmed" with questions and topics I've never heard of! I've taken the practice exam on this site and discovered that these questions are the closest to what I've learned in school." - Milton T.
"I appreciate the customer service, it has been excellent and greatly appreciated." - Caitlin K.
"I want to let you know that I took my test today, and passed it. Thank you for the help." - Patricia N.
"I have & will continue to refer your testing service to people... I appreciate your diligence and the fact that you cared enough to contact me again... Your customer service & dedication to your customers is what has obviously kept you successful." - Hope
"I appreciate your outstanding customer service!" - Tracy P
Online Payment Service