Missouri Nursing Assistant / Nurse Aide Guide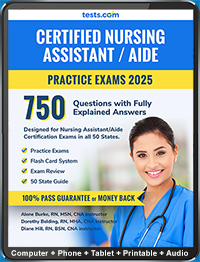 Is a License or Certification needed:
You need to pass a state certified nursing assistant program and the state exam in order to be certified. This must be done in order to work as a nursing assistant in the state of Missouri and be listed on the Missouri Nurse Aide Registry.
Who Grants Certification:
The
Missouri Department of Health and Senior Services
provides training and maintains the listing on the Missouri Nurse Aide Registry. Search the Missouri Nurse Aide Registry site for your active Certified Nurse Aide license
here
.
The Qualifications to become Certified:
In order to take the Nurse Aide state exam and receive your certification, you must:
Complete a 175-hour Missouri State Department of Health approved Nurse Aide training program. There are 75 hours of classroom training and 100 hours of on the job training.
Pass the two part state nurse aide exam including both written test and practicum examination.
For special circumstances in which you may not have to complete the training program, see the CNA Challenge.
How to Apply for Certification and to take the Exam:
In order to apply for nurse aide registration in Missouri, you will need to apply to take the exam after completing a Missouri state approved Certified Nurse Aide Training
program
.
In Missouri, the Nurse Aide Training and Competency Evaluation can be taken at one of these
certifying agencies
.
Test Content
There are usually between 60 and 100 questions on a test and 90 minutes to two hours given to complete them. An average of 75% is expected for passing. To find details like these for the written and skill portions of the state of Missouri Certified Nurse Aide Competency Exam, it will be necessary to contact one of the certifying agencies listed
here
.
The written exam, according to the Missouri Health and Senior Services Department, includes these topics:
Basic nursing skills
Fire safety
Disaster training
Resident safety and rights
Social and psychological problems of residents
Methods of caring for the mentally confused residents, such as those with Alzheimer's disease.
You will need to know the following clinical skills for the skills evaluation:
• Carrying out instructions received from the charge nurse
• Documenting that care has been provided
• Hand washing
• Indirect care (what is done before and after care giving)
• Putting on and removing gloves
• Bedpan
• Dressing and undressing
• Height
• Weight
• Hair care
• Back rub
• Collecting a urine sample
• Respiration
• Intake/Output
• Perineal care
• Positioning
• Dentures and mouth care
• Oral hygiene
• Transfer
• Commode
• Pulse
• Nail care
• Range of motion
• Assistance with feeding
• Bathing
• Empty drainage bag
• Bed making
• Temperature (non-mercury)
• Choking
• Blood pressure
• Catheter care
You will need to practice these skills. They will not need to be absolutely perfect, but you will need to be deemed competent in these skills. An RN (or other certified instructor) will guide you through a practice scenario or scenarios.
Certification Renewal and Continuing Education Requirements:
According to Missouri law, if you have allowed your registration status to become inactive, you must submit the following information to:
Department of Health and Senior Services
Attn: Health Education Unit
P.O. Box 570
Jefferson City, MO 65102
Copy of social security card
Your return address
Your daytime telephone number
Proof of employment that may include:

Social Security employment statement
A copy of your pay stubs
Copy of a W-2 form
Official company letterhead from your employer stating your position held, job duties and dates of employment
Contact
Missouri Department of Health and Senior Services
Health Education Unit
PO Box 570
3418 Knipp
Jefferson City, MO 65102
Phone: (573) 526-5686
______________________________________________________

To prepare for your nursing assistant or nurse aide exam, use Tests.com's Certified Nursing Assistant Exam Practice Test Kit with 300 multiple choice questions, written by nursing experts and educators.
For more information on licensing and exam prep, go to Tests.com's
CNA Test Guide
.
And take Tests.com's free
CNA Practice Test
.
For nursing assistant and nurse aide exam preparation products and services, such as study guides, practice tests, flashcards and courses, go to Tests.com's
CNA
listings.
Quality starts with who wrote the material.
Our practice exam writer
s
:
Alene Burke, RN, MSN

Dorothy Belding, RN, MSH

Diane Hill, RN, BSN
National Nurse Aide Assessment Program (NNAAP) Exam Content Outline Review
I. Physical Care Skills
A. Daily Living Activities:
Hygiene
Dressing and Grooming
Nutrition and Hydration
Elimination
Rest/Sleep/Comfort
B. Skills of Basic Nursing:
Infection Control
Safety/Emergency
Therapeutic/Technical Procedures
Data Collection and Reporting
C. Restorative Skills:
Prevention
Self Care/Independence
II. Psychosocial Care Skills
A. Emotional and Mental Health Needs
B. Spiritual and Cultural Needs
III. Nurse Aide Roles
A. Communication
B. Client Rights
C. Legal and Ethical Behavior
D. Member of the Health Care Team