Iowa Nursing Assistant / Nurse Aide Guide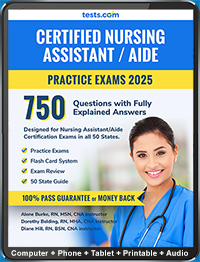 Is a License or Certification needed:
You need to pass a state-certified nursing assistant program and the state exam in order to be certified. This must be done in order to work as a nursing assistant in the state of Iowa and be listed on the Iowa State Direct Care Worker Registry.
Who Grants Certification:
Iowa Western Community College
trains nurse aides in order to get them state-certified. Once certified, the IWCC also ensures that nurse aides are listed on the Iowa State Direct Care Worker Registry.
The Qualifications to become Certified:
There is more than one route to qualify to register as a nurses aide in the state of Iowa. These include:
You have successfully completed an Iowa State Department of Health approved training program consisting of 30 hours of classroom instruction and 75 hours of clinical training.
You have passed the Iowa nurse aide competency evaluation including both written and skill portions.
You are listed in good standing as a CNA on the Iowa State Direct Care Worker Registry.
How to Apply for Certification and to take the Exam:
In order to apply for nurse aide registration in the state of Iowa, you will need to complete one of the state-approved training program. Then, in order to apply to take the state test, use this
form
to apply for the exam. Mail your application along a money order for the test fees to:
Iowa Western Community College Continuing Health Education
2700 College Road
Council Bluffs, IA 51503
Upon receipt of this registration form, IWCC will mail an admission slip (with date and time of your state exam) for you to take along with a photo ID on Test Day. You must take both the photo ID and the admission slip to the testing center.
For the skills test, you will follow all directions as above with the written test, except that the fees may be different. The Skills Test Registration Form is
here
.
Test Content
Both written and skills parts must be passed to be listed on the Iowa State Direct Care Worker Registry. The written section is 60 questions in length. You will have 90 minutes to complete the exam. A minimum score of 70% is required to pass both test portions.
The written exam questions are based on the Iowa state-approved test plan. Content topics include:
Activities of Daily Living/Basic Nursing Skills
Restorative Services
Common Diseases and Disorder
Infection Control
Mental and Social Needs
Cognitive Impairment
Resident's Rights
Safety and Emergencies
Communication and Interpersonal Skills
Role and Responsibilities of the CNA
The skills evaluation will be set within a specific amount of time to finish a given number of skills, usually around 30 minutes to finish 5 skills. You will need to practice these skills. They will not need to be absolutely perfect, but you will need to be deemed competent in these skills. The nurse aide skills usually include things like:
Infection Control
Communication
Rights and preferences
Safety, comfort and needs
For further answers to your questions about the written or skills portions of the Iowa State Certified Nurse Aide exam, please contact the Iowa Direct Care Workers Registry at 515.281.4077.
Certification Renewal and Continuing Education Requirements:
According to the law in Iowa, to renew your CNA registration, it is required that you have worked 8 hours at your place of employment in the paid role of a nurse aide during the past 24 months. This must be paid employment, not volunteer work, and in a nursing environment such as a nursing home, home health setting or a hospital.
Ten hours of continuing education are required. Find more details
here
. For information on CNA Certification Renewal, contact:
Iowa Western Community College
2700 College Road
Council Bluffs, IA 51503
Phone: (712) 325-3200 or 1-800-432-5852
TTY:
712-325-3390
Contact
IA Direct Care Worker Registry
IA Department of Inspections & Appeals
______________________________________________________

To prepare for your nursing assistant or nurse aide exam, use Tests.com's Certified Nursing Assistant Exam Practice Test Kit with 300 multiple choice questions, written by nursing experts and educators.
For more information on licensing and exam prep, go to Tests.com's
CNA Test Guide
.
And take Tests.com's free
CNA Practice Test
.
For nursing assistant and nurse aide exam preparation products and services, such as study guides, practice tests, flashcards and courses, go to Tests.com's
CNA
listings.
Quality starts with who wrote the material.
Our practice exam writer
s
:
Alene Burke, RN, MSN

Dorothy Belding, RN, MSH

Diane Hill, RN, BSN
National Nurse Aide Assessment Program (NNAAP) Exam Content Outline Review
I. Physical Care Skills
A. Daily Living Activities:
Hygiene
Dressing and Grooming
Nutrition and Hydration
Elimination
Rest/Sleep/Comfort
B. Skills of Basic Nursing:
Infection Control
Safety/Emergency
Therapeutic/Technical Procedures
Data Collection and Reporting
C. Restorative Skills:
Prevention
Self Care/Independence
II. Psychosocial Care Skills
A. Emotional and Mental Health Needs
B. Spiritual and Cultural Needs
III. Nurse Aide Roles
A. Communication
B. Client Rights
C. Legal and Ethical Behavior
D. Member of the Health Care Team