California Plumbing Exam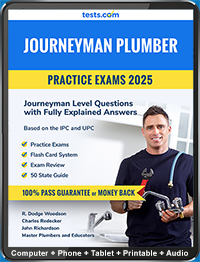 The California Plumbing License Exam covers many topics including: Vents & Venting; Administrative Procedures; Fixtures; Drainage Systems and more. Whether you live in Los Angeles, San Diego, San Francisco or another city or county, the resources below will help you get started:

Prepare to Pass the Actual Plumbing Exam:
600 Plumber Exam Questions, Flash Cards, and Testing Tips

Need of a License: A plumbing contractor that constructs or alters a building or other structure must be licensed if the project has a combined value for labor, materials and other costs of $500 or more.
Who Grants a License: Plumbing contractors are regulated by the California Contractors State Licensing Board (CSLB).
Procedures for Getting a License: A candidate for a plumbing contractor license must take two exams, one covering trade knowledge and another covering law and business subjects. The test is a closed book exam. Detailed information about the test is provided at the CSLB website.
Content of the Test: The California Plumbing Exam is divided into five major sections as follows:
1. Planning and Estimating (17%)
Planning
Estimating
2. Rough-in Plumbing Systems (32%)
Job site preparation for new installations
Layout, install, and test new plumbing
Install fuel gas systems
Install water plumbing systems
Specialty plumbing installations
3. Finish Plumbing Installations (13%)
Install plumbing fixtures and accessories
Post-installation
4. Service, Repair, and Remodel Plumbing Systems (24%)
Job site preparation for repairs and remodels
Service and repair
Remodel plumbing systems
5. Worker and Job Site Safety (14%)
Job site safety
Worker safety
Qualifications to take the Exam and receive a License: A candidate must have at least 4 years of experience as a journeyman, foreman, supervisor or owner-builder to qualify to take the test. Educational credit may be given if the candidate has at least 1 year of practical experience.
Who Administers the Test: CSLB
How to Apply for the Test: You can register to take the exam by submitting the Application for Original Contractor's License at any CCSL office, by calling (800) 321-2752 or online at CSLB.
Fees: There are fees to take the test.
License Renewal: Licenses must be renewed every two years. There is no continuing education requirement.
Applicable Code: The California Plumbing Code is based on the Uniform Plumbing Code developed by the international Association of Plumbing and Mechanical Officials.
______________________________________________________
For more information on licensing and exam preparation, go to Tests.com's
Journeyman Plumbing Test Guide
And take Tests.com's Plumbing Practice Test.

To Help You Pass the Actual Plumbing Exam:
600 Plumber Exam Questions, Flash Cards, and Testing Tips